Cases
Roosting Birds
Published 17.06.22
Birds shine a spotlight on their surroundings
In 2015, the City of Vantaa organised a landscape architecture competition to refurbish a recreational area along the riverbank in Tikkurila. LOCI Maisema-arkkitehdit were the winners with their entry "Oasis". The multidisciplinary working group also included Lighting Design Collective Oy (LDC), which was responsible for the lighting design. The first phase of the riverbank project focused on Åvik Park, an oblong area that was given an activity playground and new seating structures.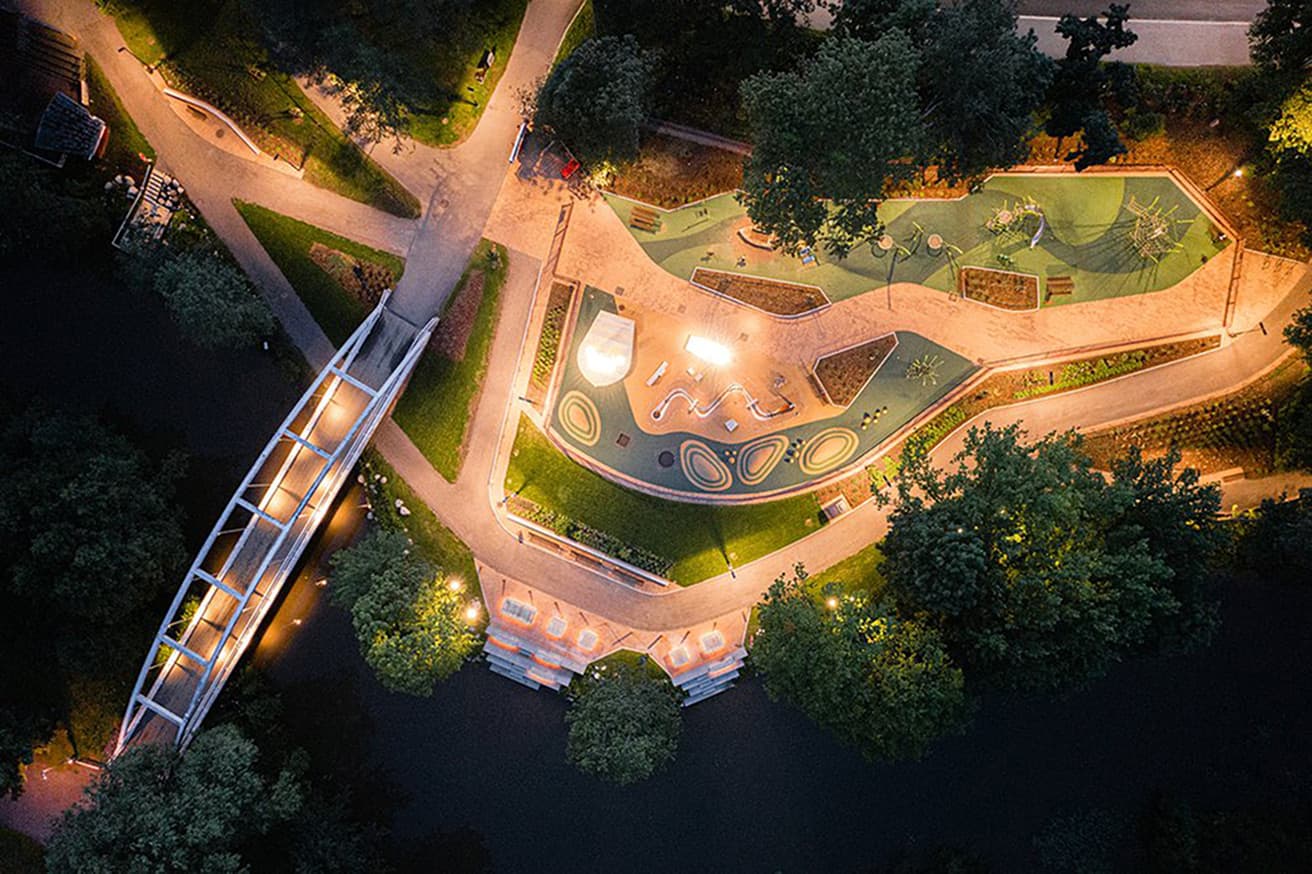 LOCI's Milla Hakari explains the basic concepts behind the project:
"The project's main theme is green nature, to act as a counterbalance to the urban centre of Tikkurila. Our goal was to create custom elements for the park through landscape architecture.The playground equipment is reminiscent of the kind of branches that birds would perch on, and the undulating ground brings rolling hills to mind. The park is also home to a miniature watercourse designed in imitation of the River Kerava, where children can sail toy boats."
LDC's Jari Vuorinen and LOCI's Milla Hakari are pleased at how fruitfully the design process has progressed from the outset, with everyone involved in the project sharing their thoughts and ideas. They are particularly grateful to the City of Vantaa for its willingness to invest in custom structures. The designers have been given free rein to realise their ideas.
Not your basic lights
There was no desire to place functional pole luminaires in the open centre of the playground. From this starting point, they all reached a shared understanding: a more distinctive lamp could be placed in a central position to catch the eye during the day and night.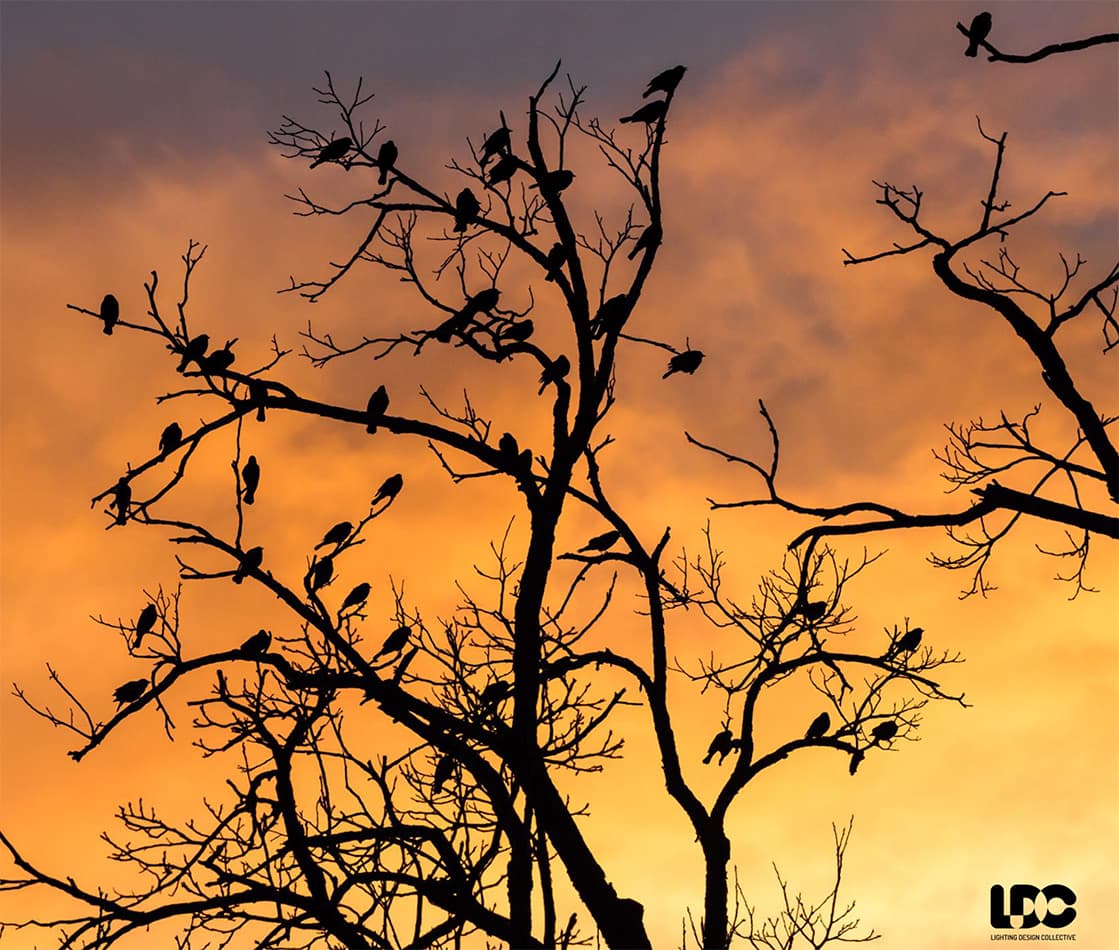 LDC's Jari Vuorinen recalls the moment when the Roosting Birds lamp was born:
"The process of creating the Roosting Birds pole was actually quite fast and simple. It's based on an idea by our then designer Antti Hiltunen. We were trying to be a bit more playful, and the Roosting Birds lamp is part of this approach.

An unfortunate number of trees had to be cut down to make way for new structures and underground urban infrastructure. This gave us the idea of placing a lamp resembling a stylised tree in the centre of the playground.

It was natural to use poles in this environment, as there were no supporting structures available. Our first thought was to use some other material than the City of Vantaa's metal poles. With this in mind, we decided on a larger wooden pole with spotlights. This quickly led us to think, what if the pole were in the shape of a tree and there were birds in it?"
The designers' original idea wasn't for the birds themselves to be lamps, but rather that the birds would be perched on the branches of the illuminated tree. However, as the iGuzzini luminaires they had become acquainted with via an earlier project could so easily be shaped into bird form, they decided to do exactly that.
Sometimes the pieces just fall quickly and naturally into place, as they did in this project. Everything about this cheerful idea was structurally simple and clear. None of the components required any complicated manufacturing.
"The first sketches of the bird luminaries were completed fairly quickly, and were then turned into 3D and paper models. The challenge was then passed to Tehomet – would it be possible to make something like this? And the answer was, of course it would. We held a couple of meetings with the Tehomet design team, and then the pole was pretty much done," says Jari.
Tehomet manufactures a tree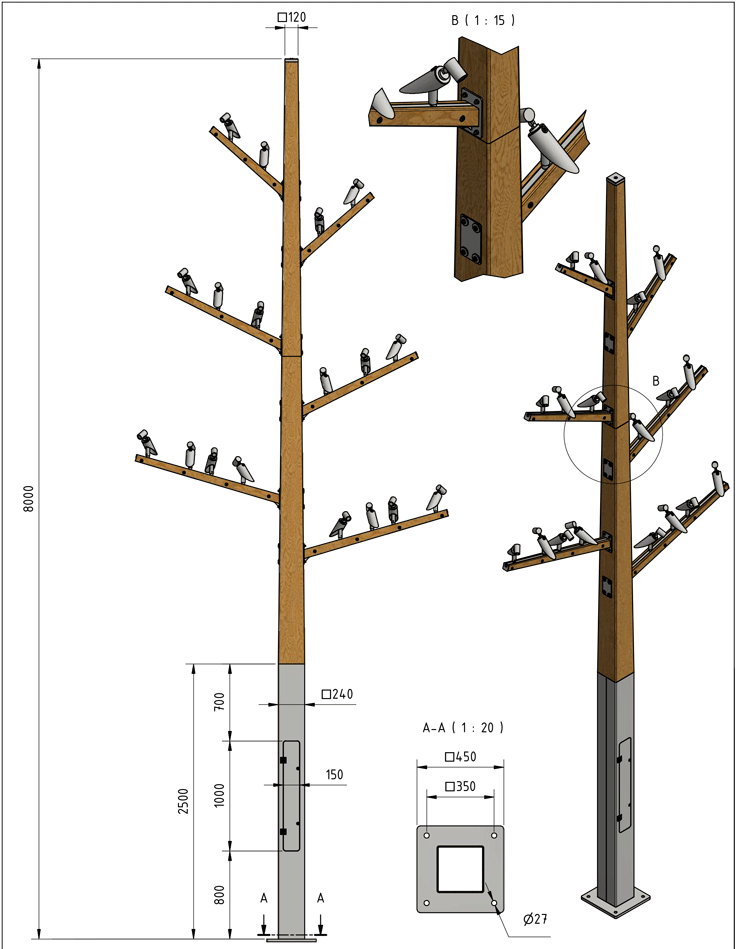 Sami Hämäläinen, who is Tehomet's sales manager for wooden poles, was involved in the Roosting Birds project from the outset. He says that Tehomet used Antti Hiltunen's original idea and tree model to dimension and draw up structural plans for the piece. Sami consulted the designers on the limitations and possibilities in terms of manufacturing and technical functionality.
Jari Vuorinen praises the smooth cooperation he experienced with Tehomet:
"This was a smooth and fast process from start to finish. We received expert support and assurances from Tehomet that we were heading in the right direction."
The wooden structure is ingenious in its simplicity – it utilises components and structures that are already being manufactured by Tehomet. The trunk of the Roosting Birds tree is made from a Tehomet Koli pole that is slightly sturdier than normal and uses a square-profile bevelled glulam beam for its base.
Finnish PEFC-certified timber was a natural choice for this project, as its main theme revolves around nature. An industrially manufactured glulam beam is made from several layers of timber that have been glued together. This increases the uniformity of the timber and improves its durability, making it ideal for wooden light poles.
The branches of the Roosting Birds tree are made from steel profiles, to which the wooden surface elements are attached. It was easy to draw the wires through the steel pipe, thereby ensuring that the branches supporting the luminaires are safe and durable.
The luminaires themselves, which ingeniously impersonate roosting birds, have been made both functional and natural-looking through simple and straightforward implementations. The bird's body consists of a bias cut steel tube that supports a hinge-mounted head which can be turned in different directions. The birds perched on the branches appear to be shining a spotlight on objects in their surroundings.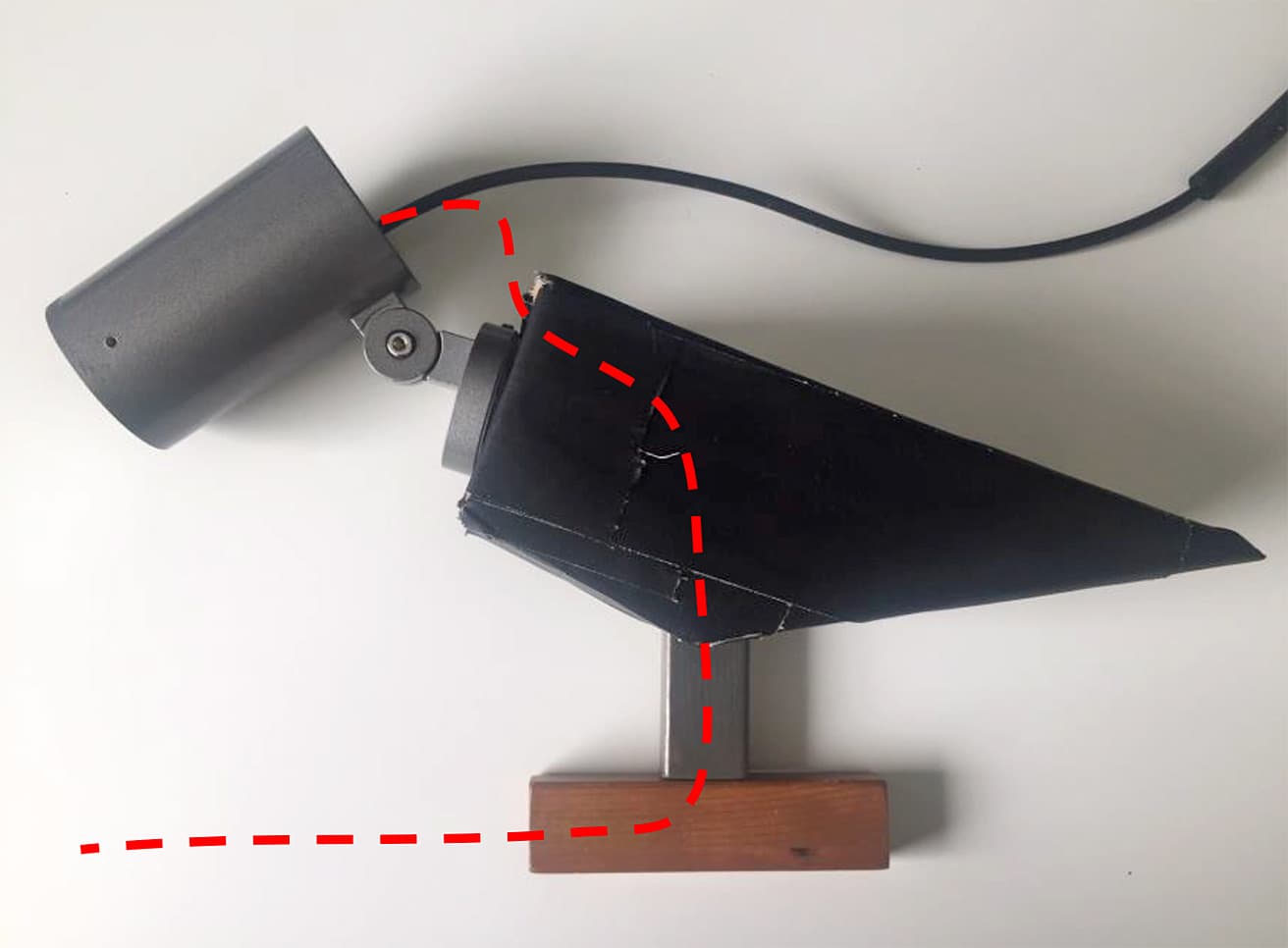 Light without glare
Lighting designers must constantly make compromises when reconciling all the – sometimes conflicting – requirements and limitations. This time, the designers were primarily focused on the surrounding nature and ensuring that the light did what it needed to do while remaining within the designated area.
Jari Vuorinen says that the most difficult part of the project was getting the direction of the lighting correct.
"The guiding principle for lighting is that it must never be a nuisance to anyone, and must not cause glare or disturbance in the surrounding area. Due to the glare issue, we knew that we couldn't illuminate the whole area, so we compromised on the direction of the lighting and chose specific areas close to the pole."
At the foot of the finished tree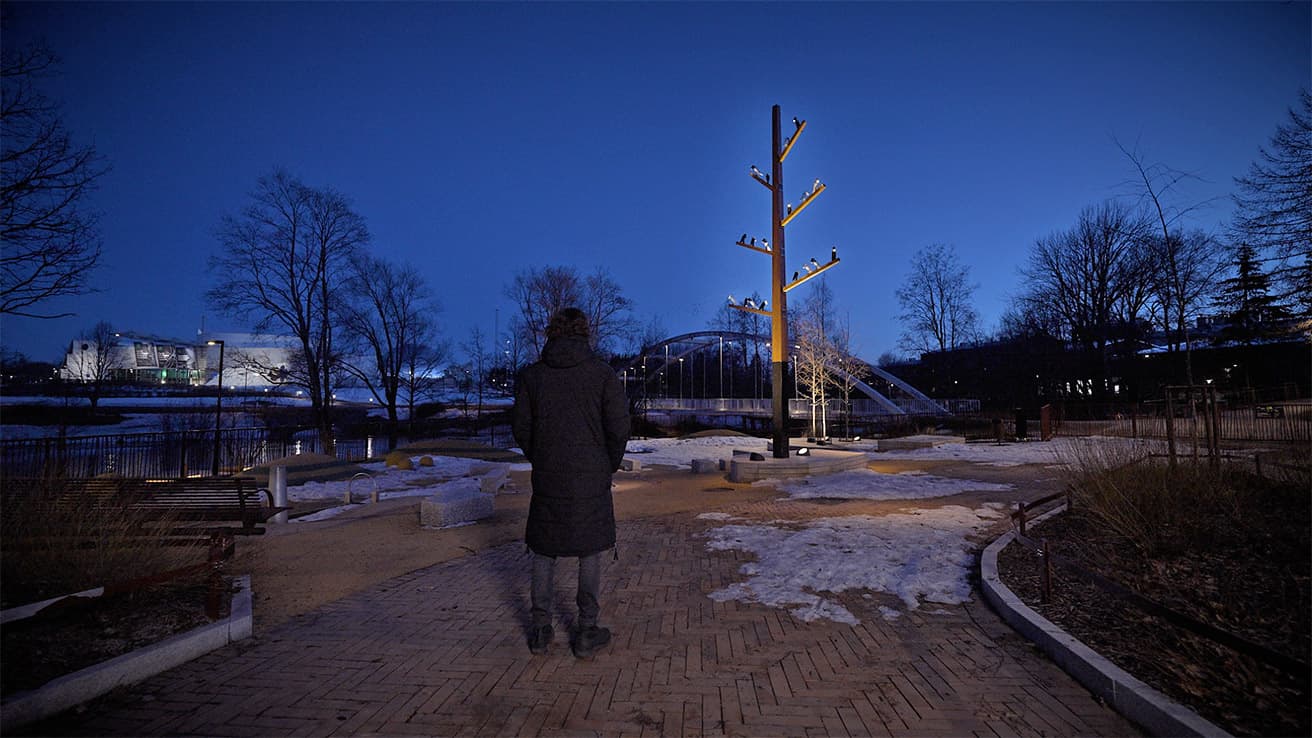 A satisfied lighting designer stands at the foot of the finished tree. All the pieces appear to have fallen nicely into place, and even that typical feeling of hindsight is missing. There is nothing to change or correct.
"I believe that we achieved what we set out to do. This simple, fun idea will definitely give the kids something interesting to look at. When the children are playing underneath the tree, they'll look up and see birds – and in the dark, they'll realise that they're also lights.

As an agency, we do a lot of dynamic work involving moving lights that react to many things. Yet here we have a simple idea with a traditional implementation and a certain sense of permanence. You don't have to worry about adjusting the dimming levels or fixing the tech every other week."
The piece that was designed for the Åvik Park was so successful that variations on it will also be seen elsewhere. Roosting Birds is highly scalable, and you can easily imagine brightly coloured birds in its branches as well …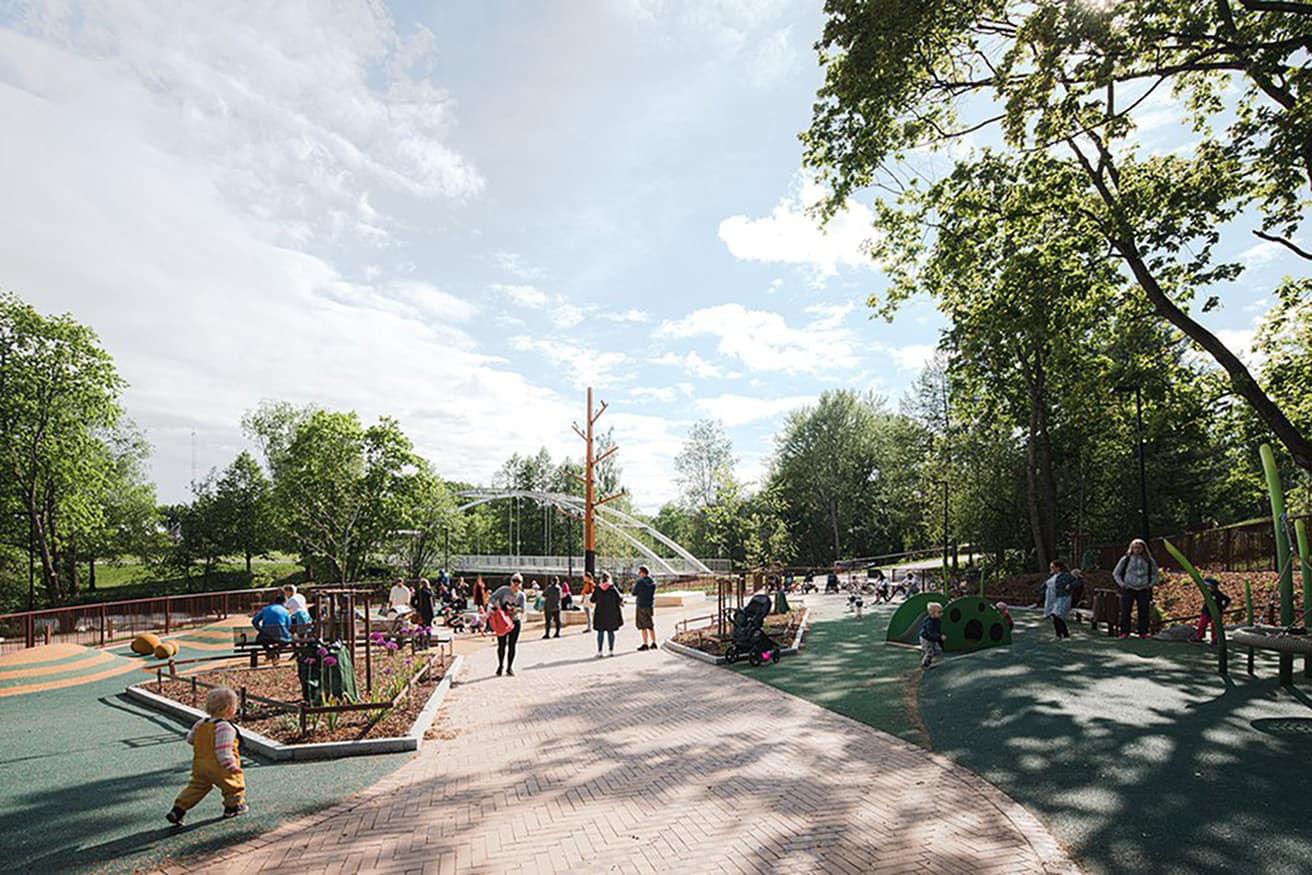 Light tells a story
Tehomet's founder, Pentti Kettunen, has always believed that every pole can tell a story. A light pole can be so much more than just a mount for a luminaire. It can embody the history and identity of a place, build a brand, and create a sense of cohesion.
Jari Vuorinen wholeheartedly agrees with Pentti's philosophy, and explains why he finds being a lighting designer so rewarding:
"Every single luminaire, and the light it casts, also tells a story. At best, the light is an experience in itself. You don't need any fancy light shows. It's enough to have a decent basic luminaire, good optics, and a target that is as well illuminated as possible. Striving for this is what makes my work fun. This is more than just mathematics. It's not just about getting the numbers right, there's so much more depth and meaning involved."
A lighting designer must be a dedicated teacher
Jari Vuorinen has over 20 years of experience in lighting design both in Finland and abroad, and this perspective enables him to see this challenging field through the lens of optimistic realism.
A lighting designer's everyday work often involves the design of basic, functional lighting within the framework of a tight budget. In an urban environment, designers rarely get to realise their visions and leave their own mark on the landscape.
How, then, can we get more creative lighting, identity building or urban branding and, in general, design that leaves more room for creativity? Jari sees himself as a bringer of glad tidings, and part of a longer lineage:
"Lighting design has to be seen as a long continuum. You have to look at it this way: as designers, we're constantly steering the lighting sector in a more high-quality direction. It requires a lot of grassroots thinking – we're teaching people what good lighting can be and what it can achieve."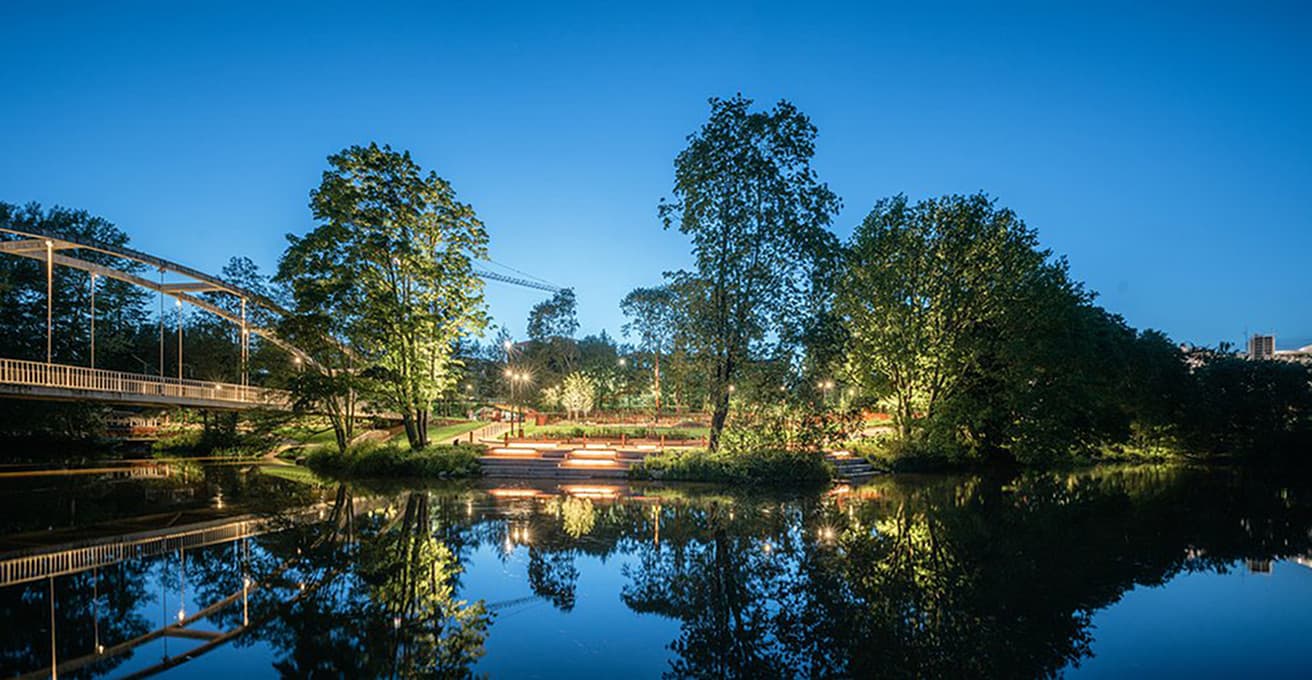 ---
Luminaire: iGuzzini Palco InOut Q688
Wooden sections: Finnish PEFC-certified timber, surface treatment brushed Cinnamon
Steel sections: RAL 9004 black
---
The following professionals involved in the project were interviewed for this article:
Jari Vuorinen, Creative Director, LDC
Milla Hakari, Landscape Architect and Owner of LOCI Maisema-arkkitehdit Oy
Sami Hämäläinen, Sales Manager, Wooden Poles, Tehomet Oy
---
Lighting Design Collective LDC
LDC is a small, international lighting design agency with offices in Helsinki, Madrid and London. The agency specialises in the creative use of light.
Jari Vuorinen has been working with light since 1994. He has a solid background in photography and video, but his focus has since shifted towards architecture and light art. For the past 20 years, Jari has been making permanent works of light art. His work revolves around creative design and rethinking the environment.
Location: Vantaa, Finland
Construction year: 2020
Used in: Area Lighting
Designer: Lighting Design Collective
Photographer: Ilpo Aalto and Pyry Kantonen