Koli Park 6
Product number: Koli Park 6
Electrical number: –
Koli – a stylish and restrained wooden pole for parks, roadsides and cycle paths
A refined edge for parks and roadsides
Koli's immense popularity is not exactly a surprise – it truly is an elegant light pole. The clean lines of Koli's rigid conical square profile make it ideal for all kinds of lighting environments.
Its rectangular shape goes particularly well with angular luminaires – although using a round light with a square profile also creates a nice contrast. It's a win-win situation. Luminaires can be attached either to an arm or directly to the top of the pole.
We recommend Koli for
parks and gardens
squares
city centres and pedestrian/cycle lanes
residential areas
parking areas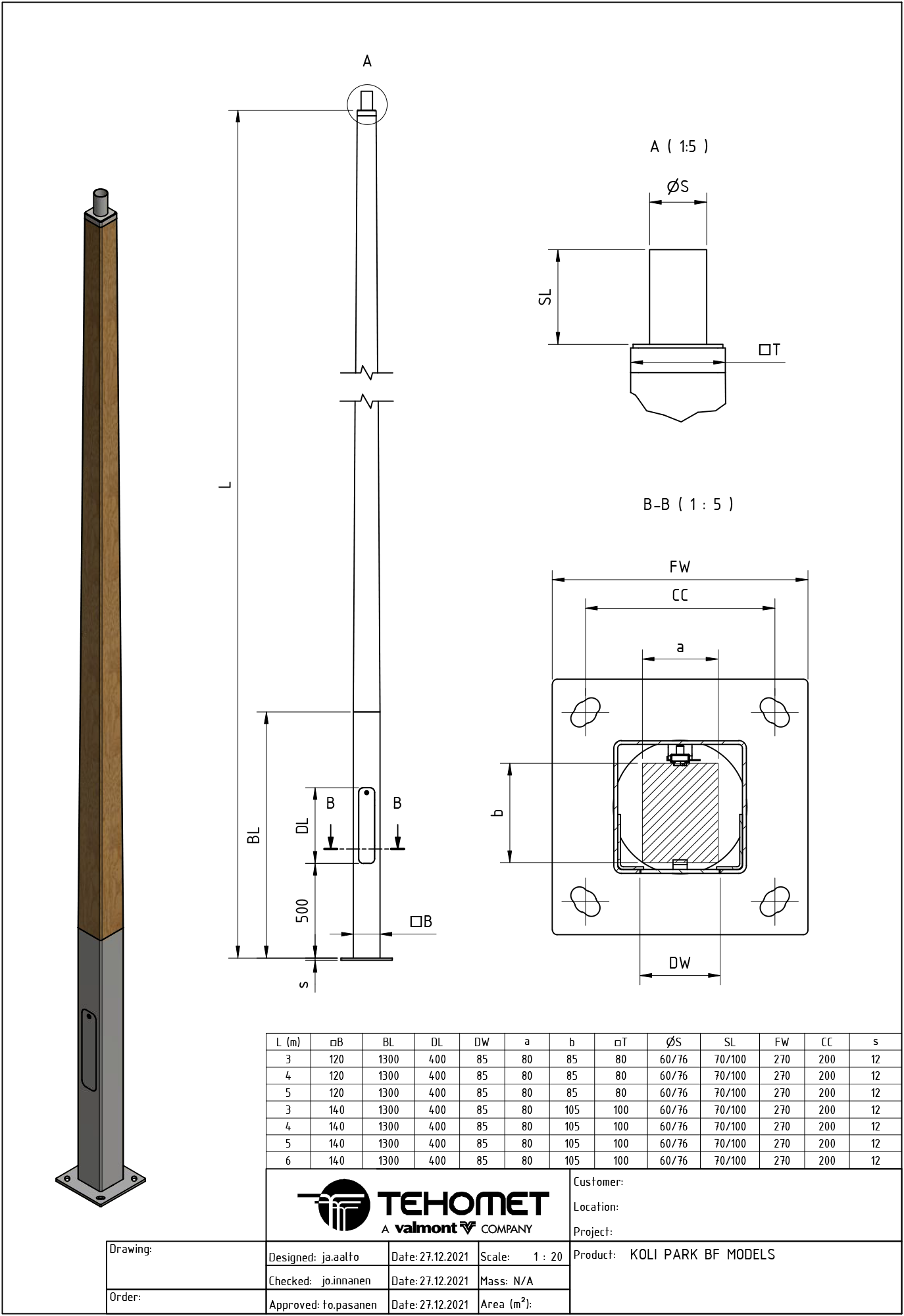 ---
---
---
---
---
---
---
---
---
---
Base embedding diameter (mm)
---
---
---
---
---
Connection compartment internal dimensions (mm)
---
Distance door bottom to ground (mm)
---
---
EN40 capacity FI (22 m/s, CAT2, class A) m²
Surface treatment of wooden parts
The long service life of wooden poles requires a proven surface treatment. We use a surface treatment system developed by the Finnish Teknos. Below you will find samples of the standard colors of Tehomet's wooden light poles.
Read more about wood surface treatment on the Wood Protection and Surface Treatment page.

Surface treatment of steel parts
Steel parts are galvanized  according to international standard SFS-EN ISO 1461, layer thickness typically <90 μm.
You can see the standard colors of the metal parts of the wooden light poles below. Read more about our painting service on the Painting Service page.