Painting service
The paint shop that is located next to Tehomet's light pole factory is one of the largest in Finland. One of Europe's leading industrial surface treatment companies, FSP Finnish Steel Painting, is responsible for the painting work carried out there. This modern paint shop has a 13-metre furnace that can handle poles and other structures of up to 12 metres in length. Even longer items can be painted using a traditional wet painting method.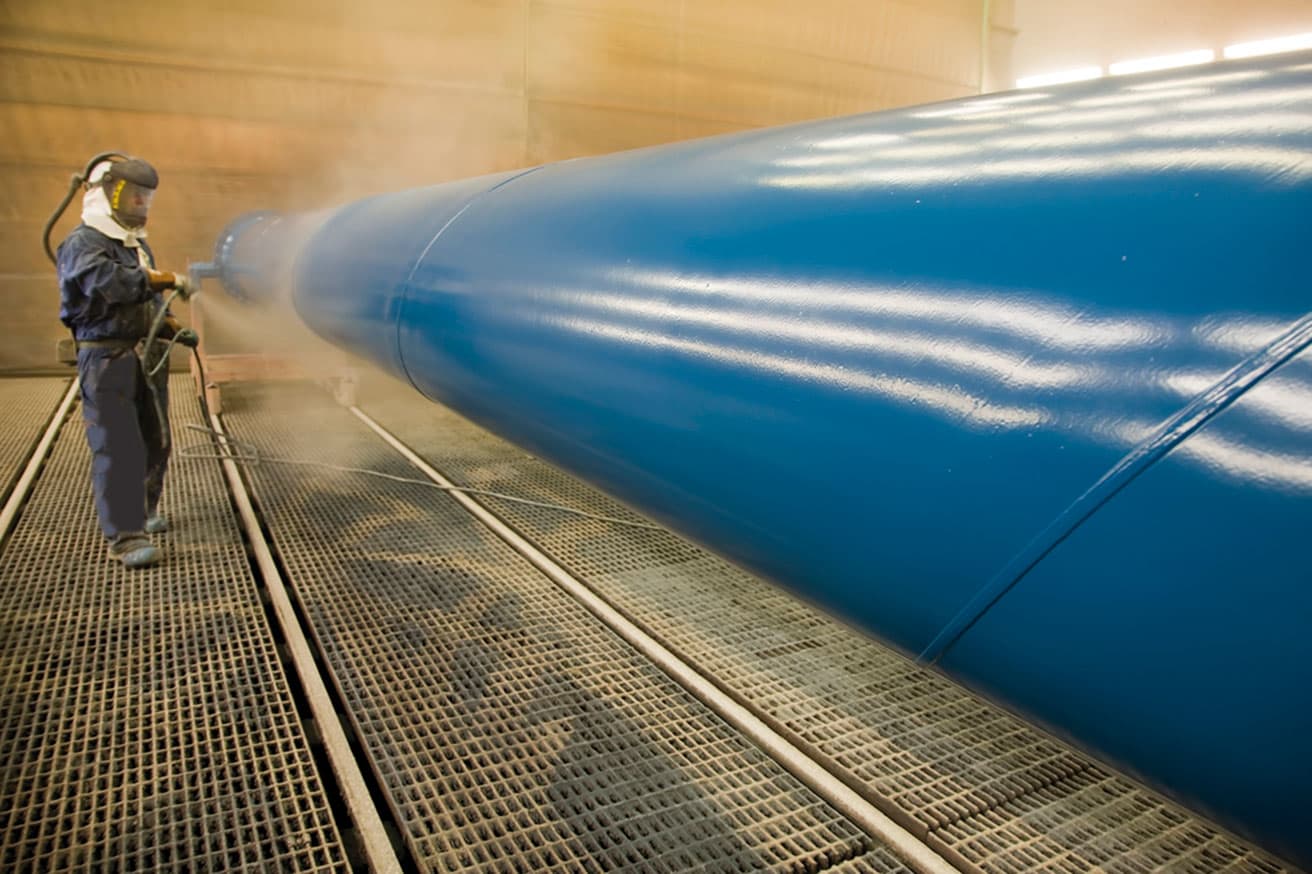 Additional protection for hot-dip galvanized surfaces
Light poles are hot-dip galvanized before being painted. Hot-dip galvanization already gives steel surfaces long-lasting protection against corrosion. However, a hot-dip galvanized surface can be further strengthened by adding a coat of paint on top of it. This method of combining two protective layers is called a duplex coating. Read more about the hot-dip galvanization process used by Tehomet on the "hot dip galvanizing of steel poles" page.
A hot-dip galvanized surface can also be painted for aesthetic reasons. You may want a colourful look that is better suited to the surroundings, or alternatively you may wish to use a colour that will disguise the product and make it inconspicuous.
The most common painting methods are:
Powder coating, in which the zinc surface is coated with a suitable composite plastic powder and cured in a furnace. The binders used in powder paints are either epoxies, epoxy–polyesters, polyesters, polyurethanes, acrylics or silicone-based binders.
Wet painting, in which the zinc surface is sprayed with liquid paint.
Special coatings
Different types of coatings can also be combined, and custom coatings can be used to give products special characteristics, such as improved resistance to corrosion and anti-graffiti properties. Powder coating also allows you to create impressive surfaces with structural, candy, pearl, metallic or other effects.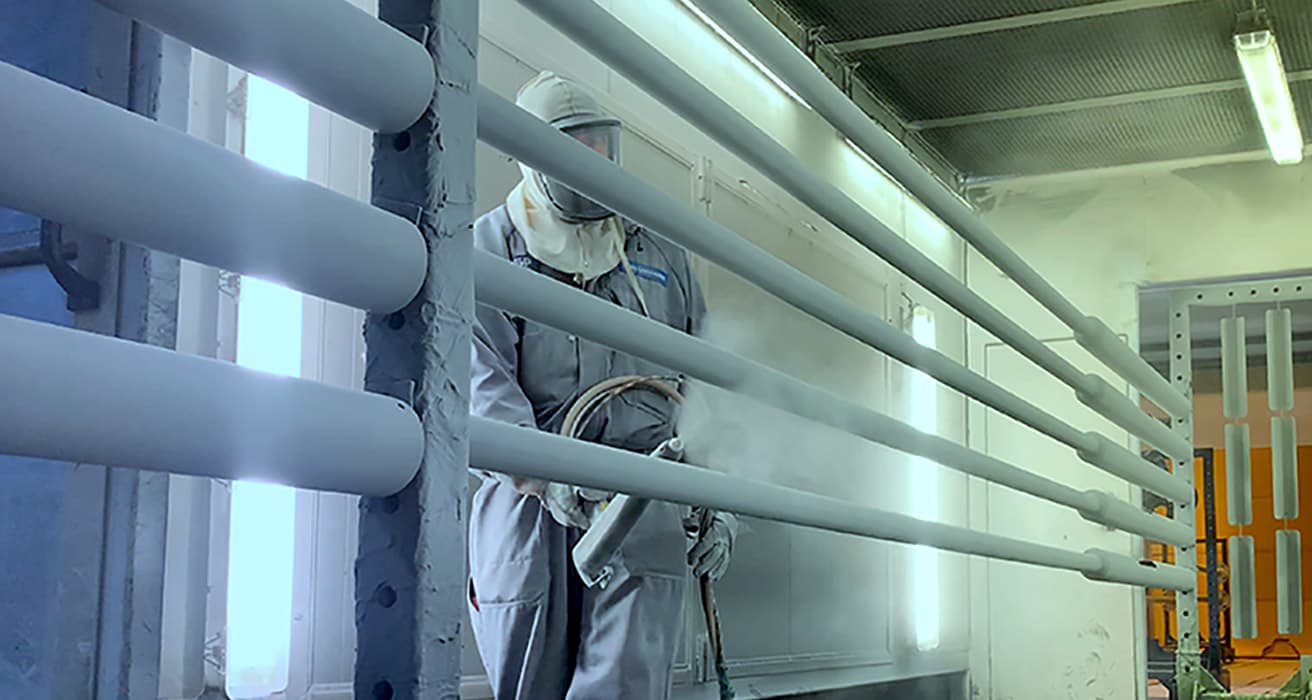 Plascoat is a polymer alloy coating that forms a very durable and flexible thermoplastic coating on a component's surface. Plascoat coatings have excellent impact resistance.  As it is non-toxic and environmentally friendly, this coating method is a popular choice for poles installed in schoolyards and daycare centre playgrounds. Plascoat is a poor conductor of heat, which means that children won't be able to get their tongues stuck on metal structures during the winter 🙂
A Plascoat thermoplastic coating provides excellent corrosion resistance, and is also easy to keep clean. For example, graffiti and stickers are easy to remove.
Hot-dip galvanized structures are surface treated in dry and heated indoor areas to ensure a high level of quality control. During the process, the pieces are never exposed to environmental conditions that could compromise the quality of the surface finish.
Pretreatment
The quality of the steelwork will have a decisive impact on the success and longevity of the surface treatment. The product's steelwork will therefore be inspected before any surface treatment is carried out. Welding joints, cut surfaces and any defects in the steel surface will be fixed.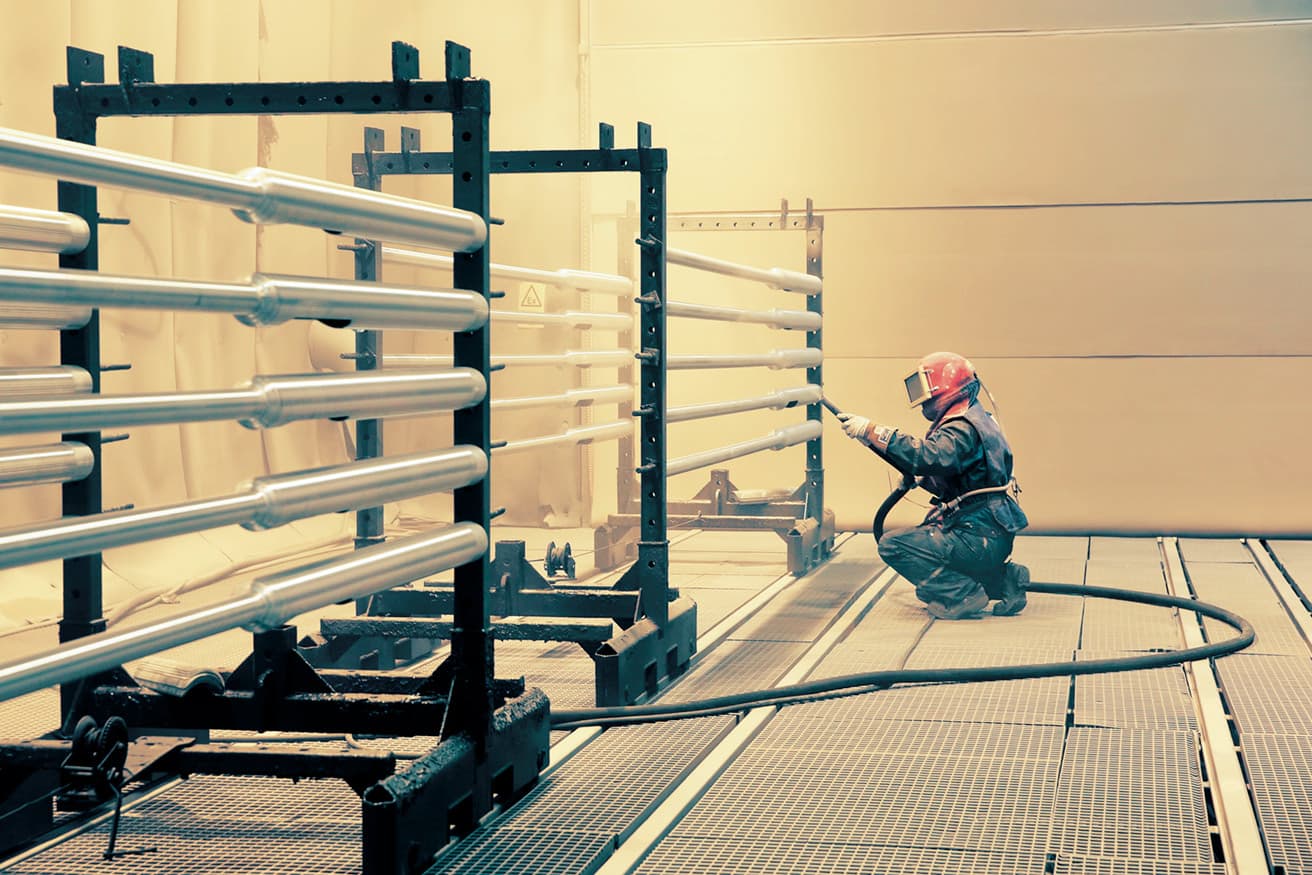 Cleaning the components
Regardless of the painting method being used, careful cleaning and pretreatment is essential for a successful surface treatment. Chemical pretreatments increase the anti-corrosion resistance of the surface finish by creating an oxidation shield beneath the paint layer.
Impurities are removed using dirt and grease removal methods that comply with the ISO 12944-4 standard. Suitable chemicals are selected in accordance with the material being painted and the desired level of corrosion protection. This ensures that the paint will adhere to the zinc film.
The zinc surface must be completely dry and suitably rough for painting. Hot-dip galvanization creates a degree of roughness and unevenness on the zinc surface that will depend on the silicon content of the steel. This unevenness can be slightly reduced before painting with the aid of mechanical abrasion. The highest quality finish will be obtained by choosing low-silicon steels.
Abrasive blasting
A light sandblasting will remove corrosion and other impurities from the metal surface without weakening the zinc layer. The type of grit is selected in accordance with the material being cleaned. The options are steel grit, natural sand, quartz sand, aluminium oxide, slag, glass and dry ice.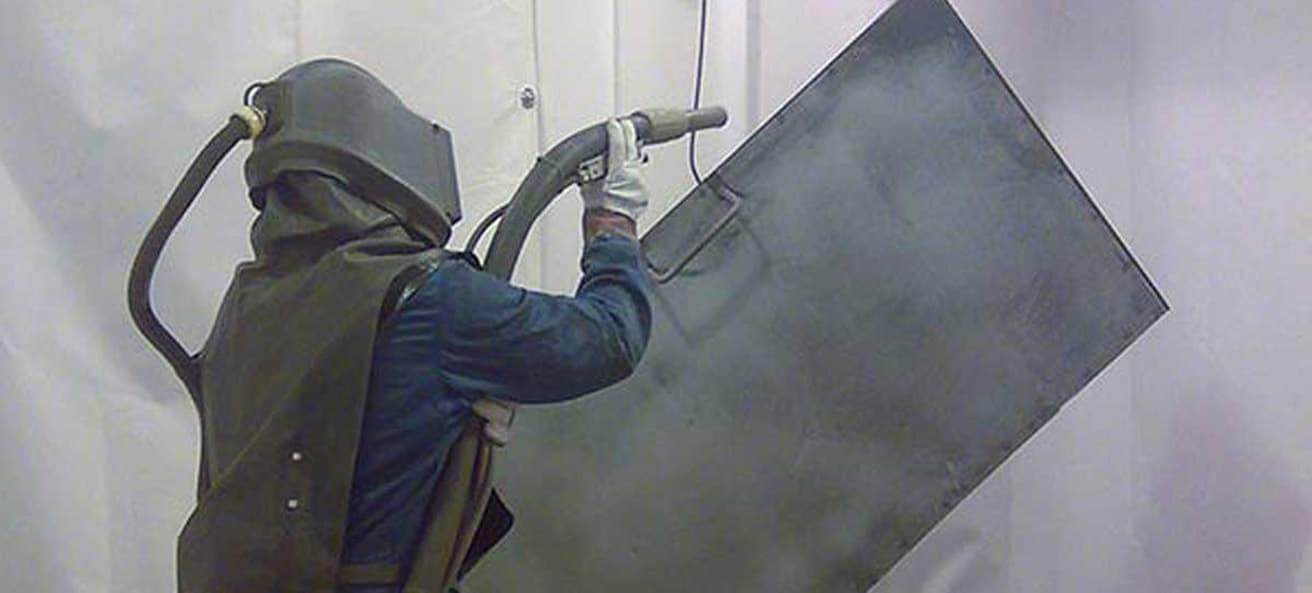 The grades of abrasive blasting are light, thorough, very thorough, and blast cleaning to visually clean steel. These grades are defined in the ISO 8501-1 standard.
An abrasively blasted component will not be exposed to outdoor air or moisture before painting begins. In excessively humid conditions, a film of rust may very quickly start to form on the component's surface. Painting will therefore begin as recommended within six hours of abrasive blasting.
Powder coating
Powder coating is the most commonly used method of painting steel, as it provides a hard and vibrant surface.
Static electricity is used to apply and attach the powder to the component. This electricity will be generated in either the component or the paint itself with the aid of a powder paint spray gun.
As its name suggests, powder paint is a powdery plastic mixture that is applied to the component being painted.
After it has been coated, the component will be placed in the furnace where it will be heated throughout to a temperature of approximately 160–200 degrees Celsius, so that the powder paint will melt and adhere to the surface.
Powder coatings are used to paint films with thicknesses in the range of 60–140 μm. As their raw materials do not contain any volatile organic solvents, the paint films are watertight and have significantly better insulating properties than wet paint films of the same strength.
Combined with the crosslinking reaction that occurs at high temperatures, this results in powder paint films with excellent anti-corrosion protection. The mechanical and chemical durability of these paint films is also good.
Due to the heating involved in the process, powder-coated components usually have a thickness of 3–6 mm or are generally light structures.
A component's suitability for powder coating is determined by factors such as its corrosivity category (see the table below).
The paint shop used by Tehomet
FSP's surface treatment facility is located right next to Tehomet's production facility, and we have one of Finland's largest batch-type furnaces at our disposal. The interior dimensions of the furnace are
– width 1.75 m
– height 2.30 m
– length 12.7 m
Wet painting
Wet painting is the most traditional and versatile method of applying surface treatments. It can be used to paint almost all materials and components. There are also a vast array of different paints, suppliers and methods available. Wet painting can achieve practically all of the corrosivity categories required by surface treatment instructions.
The application methods used in wet painting are spraying, brush application and roller application. Brushes and rollers are mainly used to support other application methods, and are often used in corners and cavities to ensure sufficient paint layers for corrosion protection.
Methods for spraying wet paint can be roughly divided in two: airbrushing and high-pressure spraying. These can be subdivided into single- and dual-component spray systems.
Airbrushing is usually used for smaller components and those that require automotive paints. High-pressure spray painting is the most commonly used industrial method, and is by far the fastest for larger components in particular.
One to five coats will be applied depending on the component's corrosivity category and the paint and painting system being used. The desired properties are achieved by layering different types of coats for corrosion protection, mechanical durability and aesthetics.
The paint shop used by Tehomet
The maximum dimensions for our wet painting lines are
– width 5.50 m
– height 5.50 m
– length 15.0 m
Inspecting the painted surface
A visual inspection is always carried out at a distance of about one metre from the component. The colour of the top coat is checked against the colour chart. The thickness of the dry film is measured and compared to the ISO 19840 standard.
The thickness and, if necessary, adhesion of the painted layers is checked. Products that pass the inspection are then packaged for delivery.
The entire process is carried out on the same premises. In order to ensure a high-quality result, the structures are never exposed to any varying environmental conditions during the brief surface treatment process.
Classification of environmental conditions
| Class | Atmospheric corrosivity | Example environments |
| --- | --- | --- |
| C1 | Very mild | Warm, dry interiors |
| C2 | Mild | Rural areas and unheated interiors |
| C3 | Moderate | Urban and industrial environments |
| C4 | High | Industrial and coastal areas, the chemical industry |
| C5 | Very high | Industrial areas in aggressive climates |
| CX | Extreme (added in 2017) | Offshore, tropical areas |
The combination of paints used in the coating will determine the corrosivity category of the surface finish. Corrosivity categories are defined in the ISO 12944-2 standard.
---
Durability classes
| Luokka | expected service life |
| --- | --- |
| Low (L) | Under 7 years |
| Moderate (M) | 7–15 years |
| High (H) | 15–25 years |
| Very high (VH) | Over 25 years |
A product's durability class is not the same as its warranty period. A durability class is a rough classification for determining design and maintenance requirements. Durability classes are defined in the ISO 12944-1 standard.
---
Tehomet Coating Solutions
Tehocoat Basic
Wet painting is a traditional method that provides good anti-corrosion properties, good weather resistance, and good mechanical and chemical durability. It is a good solution when the product's size or weight class is not suitable for powder coating. Wet painting is also used when special colours or particular properties are required. The UV resistance of wet painting can be improved by applying a polyurethane clear coat.
Tehocoat Powder
Powder coating is a fast, durable and environmentally-friendly solution. Powder paints contain no volatile organic compounds, and can be used to obtain a hard paint surface that is resistant to mechanical and chemical abrasion. Thanks to its electric charge, powder paint also spreads easily into small openings, which makes it an ideal choice for multidimensional components. The same method can also be used to create a tough Plascoat thermoplastic surface to which stickers will not adhere – or tongues in subzero temperatures. It also has the advantage of being easy to maintain.
Tehocoat Design
Modern methods and tools can be used to create products with very distinctive surfaces and a variety of structural surface effects. These effects could include mimicking old copper or modern carbon fibre surfaces. Custom coatings will also meet the technical requirements set for the products.
Tehocoat Unique
Our paint shop can also fulfil more unusual requests by, for example, combining different surface treatment methods or finding a custom solution to meet your needs. Ask us for more information or tell us your ideas!
---
Tehomet's standard colours for light poles
You can choose the colour of your Tehomet steel pole from the standard and additional colours below. Both Plascoat and powder/wet paint colours are available.
Plascoat colour chart
Standard Plascoat colours are available with a delivery time of approximately one week.
Other Plascoat colours
These Plascoat colours are subject to limited availability –always check their availability with the sales team!
Powders/wet paints
These standard colours are always available.
Other powder/wet paint colours
All other shades shown in the RAL Classic (K1) colour chart are available with a delivery time of 3–4 days with the exception of fluorescent (RAL 1026, 2005, 2007, 3024, 3026, 6038) and pearl colours.
You can use Tikkurila's RAL Classic colour chart to find approximations of the shades in the RAL chart.
Please note!
All of the colour samples on this page were generated electronically and may differ slightly from actual colour samples.
Ask for more information about Tehomet's painting service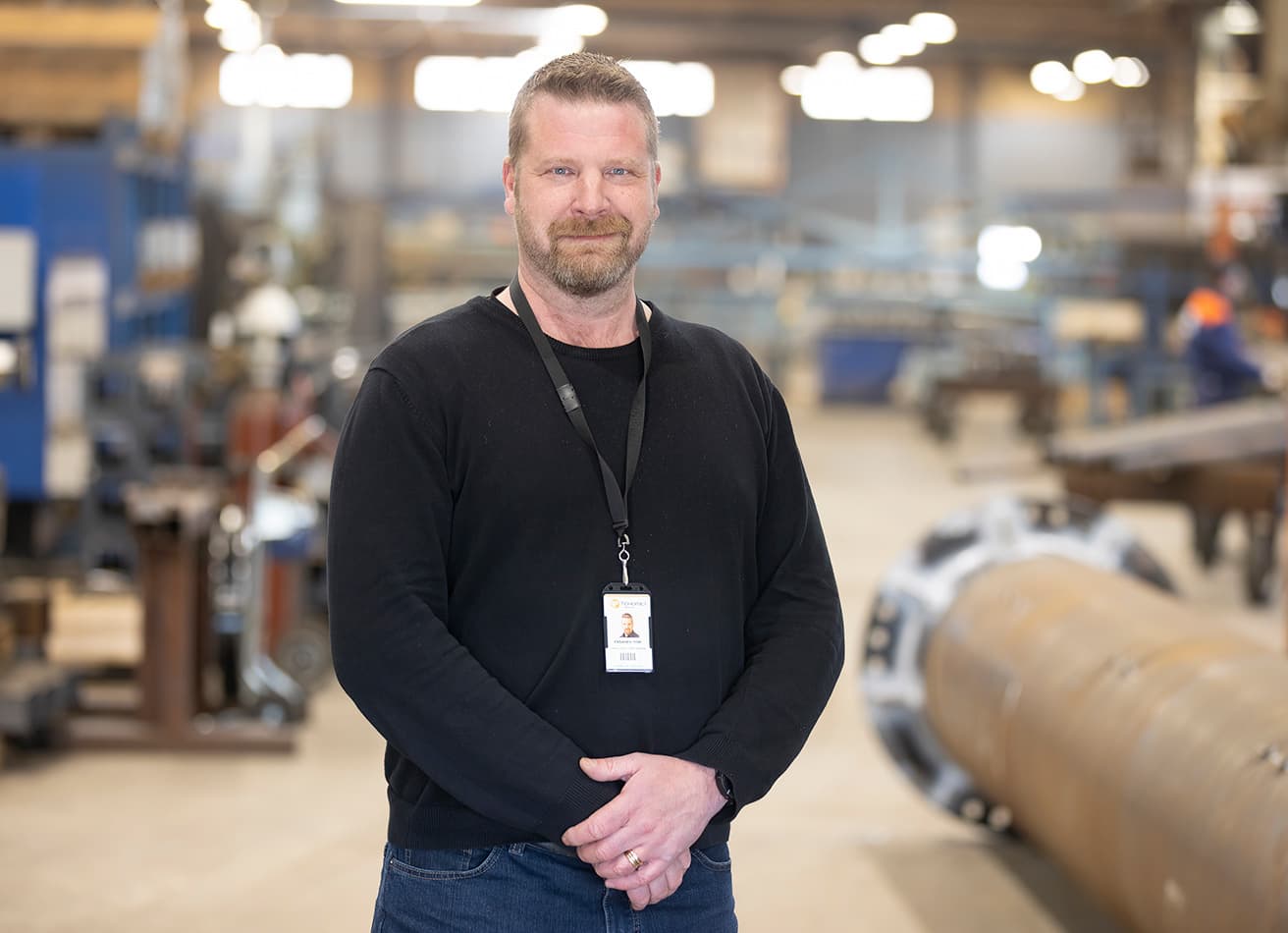 Tomi Pasanen
Operations Director
Kangasniemi
+358 400 771 466
tomi.pasanen@tehomet.com