Work at Tehomet
As the leading manufacturer of steel and wooden light poles in the Nordic countries, Tehomet offers a front-row seat for future outdoor lighting and infrastructure construction. We are continually developing new things and carefully listening to our customers' needs. If you want to be part of building a safer and more pleasant environment, you are welcome to join us!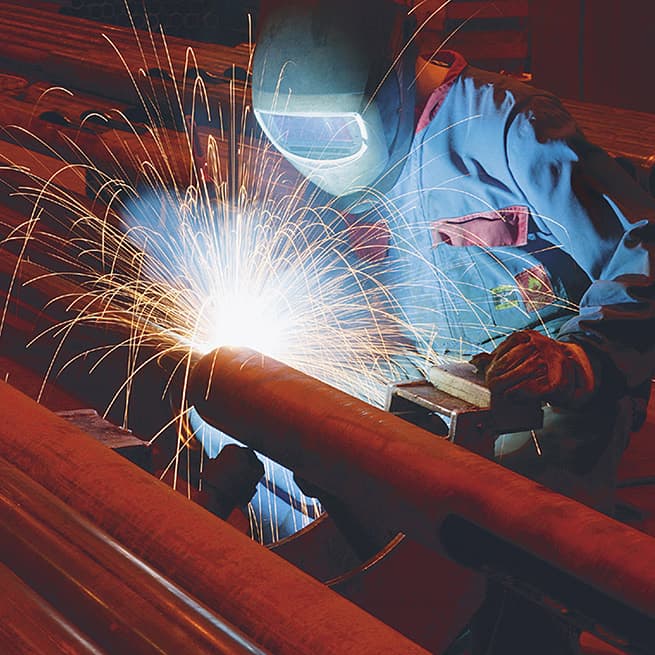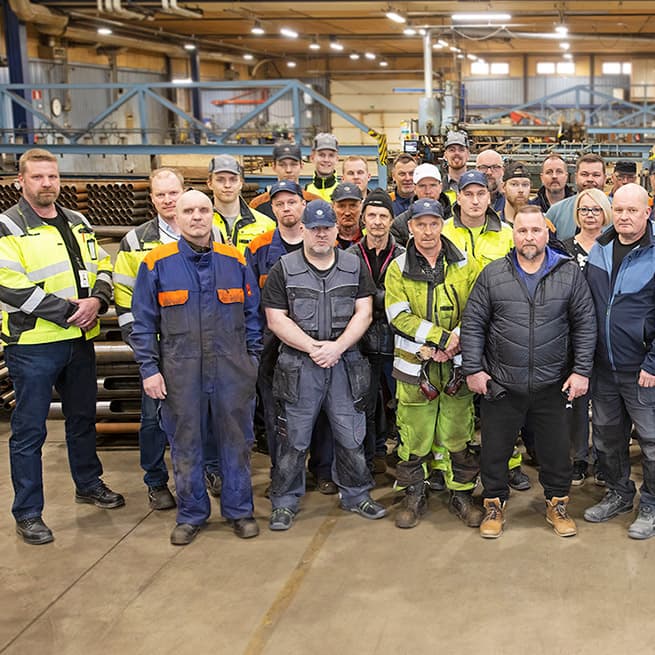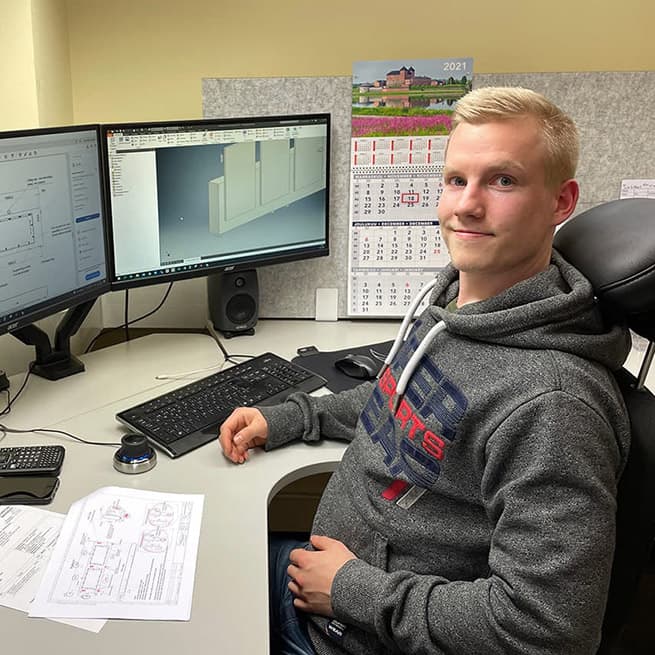 Tehomet offers rewarding career opportunities. Although your colleagues will have a broad range of backgrounds and skills, everyone at Tehomet is focused on our goal of being an industry leader, reliable partner and valued member of the communities in which we operate.
Our mission is to work with our customers to create a safer and more pleasant environment for everyone. And our work revolves around helping our customers to succeed.
We are a more significant part of the Valmont Group network than you would expect from our size. We still hold dear to the values of a family business from Kangasniemi, and employ over 60 local professionals in Kangasniemi and Parikkala in Finland and Kiiu in Estonia.
What we expect from you
Our profound expertise and long-term R&D is continually opening up new markets all around the world. We need employees with diverse skills and, above all, a desire for personal development. You are someone who is internally motivated to take responsibility for their work. You are keen to solve customers' problems and exceed their expectations. You know how to take the initiative and tackle challenges. You appreciate the work done by others, and like sharing opinions and fresh perspectives within your network.
A pioneer in its field
Tehomet is the leading manufacturer of steel and wooden light poles in the Nordic countries. We have been serving our lighting and infrastructure customers for more than 40 years, both in Finland and abroad.
At Tehomet, you will get to see the full spectrum of infrastructure construction in both Finnish and international markets. Every day, we work with lighting designers, electrical wholesalers and electrical contractors to find the best possible solution for their customers' individual lighting and infrastructure needs.
We have a vast amount of experience and understanding that we are both proud and happy to share with all of our partners.  We are involved in developing the smart infrastructure of the future, as part of innovative projects that will enable the development of new data-based services to meet urban needs both in Finland and abroad.
Open positions
Right at this moment, we don't have any job vacancies available. Please note, however, that you can still submit an open application. Instructions and a link to the application are provided below.
---
Open application
It's great that you're interested in working at Tehomet! If we don't currently have any open positions that match your skills, you can send us an open application.
By submitting an open application to Tehomet, you consent to your personal details being disclosed to employees involved in Tehomet's recruitment process.
We will retain open applications for twelve months, after which your details will be removed from our systems. If you want us to delete your data before this, please contact Tehomet by emailing rekry@tehomet.com.
Tehomet also offers internships and summer jobs to students and others with an interest in the field.
You can apply for an internship or summer job by filling out an open application via the link below.
For more information about internships and summer jobs, please fill out the form at the bottom of the page or send an email to recruit@tehomet.com.
Open application
What happens after I submit my application?
We will send you a confirmation email once your application has been received.
Get some up-to-date information about us, and be prepared to tell us why you want to work for Tehomet and why you would be the right person for the job.
We may invite you for an interview. This interview is an opportunity for us to get to know each other, and for you to showcase your expertise.
Tehomet in social media
---
Julius trains steel structure design at Tehomet
Julius shared his experience in May 2023 at the beginning of his traineeship.
Introduce yourself and your journey to Tehomet
I'm Julius Torniainen, originally from the city of Mikkeli. I have been studying mechanical engineering at Lappeenranta University of Technology for the past three years now. Before embarking on my university studies, I had focused on natural sciences in my high school studies. A lot of physics and advanced mathematics were my main areas of interest, as I knew that a technical university was the perfect fit for my post-graduate studies.
Throughout my mechanical engineering studies, I've delved into the realms of strength engineering, materials and production engineering, automation, and mechanical design. In addition to my mechanical engineering studies, I have also pursued a minor in manufacturing economics. This has allowed me to explore management-related courses, such as supply chain and innovation management. My studies are now at the stage where it is time to choose a specialization for the final two years and pursue my Master's degree.
The quest for a traineeship was not without its challenges. I actively sought opportunities but struggled to find the perfect fit. Fortunately, fate smiled upon me when I stumbled upon Tehomet's call for a summer intern on Facebook. Although I had a few other options to consider, joining Tehomet was an easy decision. I believed that an internship at Tehomet would provide me with valuable insights into the world of design. Furthermore, the prospect of continuing my studies in steel structures made Tehomet an ideal choice.
What sparked your interest in machinery and steel structures?
Ever since I was a little kid, I've been captivated by construction and various types of motor vehicles. My father, who is also a mechanical engineer, has been a significant influence in nurturing my fascination with machinery. I believe it's partly thanks to him that my passion for all things mechanical was ignited. What's more, the practicality and versatility of mechanical engineering were major draws for me. It seemed like every aspect of the world around me required mechanical engineering skills.
Choosing Tehomet for my traineeship was a no-brainer, thanks to my particular interest in steel structures. The field of steel structures is vast, and I'm confident that specializing in this area will open up promising employment opportunities.
Tell us about your internship experience at Tehomet. What have you done?
My traineeship is just kicked off, and the first few days have been dedicated to familiarizing myself with the software and practical aspects of the job. My goal is to enhance my modeling skills, becoming even more proficient in the software and solidifying the fundamentals. This will allow me to delve deeper into applied design work.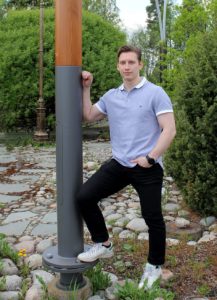 Initially, I familiarized myself with Tehomet's typical products, ensuring a smooth transition for these existing items into production. Now, I've reached a stage where I have the exciting opportunity to design new products myself. It's truly fantastic that at Tehomet, I receive hands-on training in the design and production of complex steel structures. What's more, being able to witness the manufacturing process taking place just on the other side of the wall provides a unique perspective on my design work.
Where will you go after your studies?
The beauty of engineering studies lies in their ability to prepare you for a wide range of career paths. I could see myself working as a manager or expert, taking on roles as a design or production engineer, or contributing to the development of machinery, equipment, and components. In practice, the only limitation to what one can achieve is their own curiosity and ambition. As for my future plans, they're not yet set in stone. That's precisely why this traineeship presents a fantastic opportunity for me to continue exploring and expanding my horizons.
I would encourage others to embrace any opportunity that sparks even the slightest interest. It's crucial to challenge yourself, even if you haven't mastered all the skills yet. After all, learning happens through hands-on experience, and an internship provides the perfect platform to discover and nurture your own strengths.