A typical product manufactured by Tehomet doesn't fit into a freight bag or a post office parcel locker, which means that deliveries must be carefully planned and booked. We use KS-Rahti's vehicles to deliver our light poles, as they can accommodate 13.5-metre poles without any special arrangements.

Guidelines for smooth product deliveries
When ordering products, be prepared to provide the following information to ensure smooth delivery. This information is especially important for deliveries to construction sites.
delivery address
contact person's name and telephone number
any additional services required, such as hoisting or precisely timed deliveries.
If you need to make any changes afterwards, just contact your salesperson to make the corrections.
Make sure that the driver can contact the correct person before delivery – even during holidays, sickness absences or other exceptional circumstances.
Minor last-minute changes to deliveries in Finland must be sent directly to the transport company, KS-Rahti:
Telephone: 0400 647 827
Email: jii-pee@ksrahti.fi
Reception of goods
It is the customer's responsibility to ensure that the delivery vehicle has unobstructed access to the unloading site, and that there is enough room on the site for unloading and moving the goods.
Make sure that the contact person and unloading personnel are waiting at the unloading site.
The recipient must sign for the delivery and ensure that the goods and packages correspond to the order. Any comments or problems with the delivery should be recorded in the consignment note together with the driver.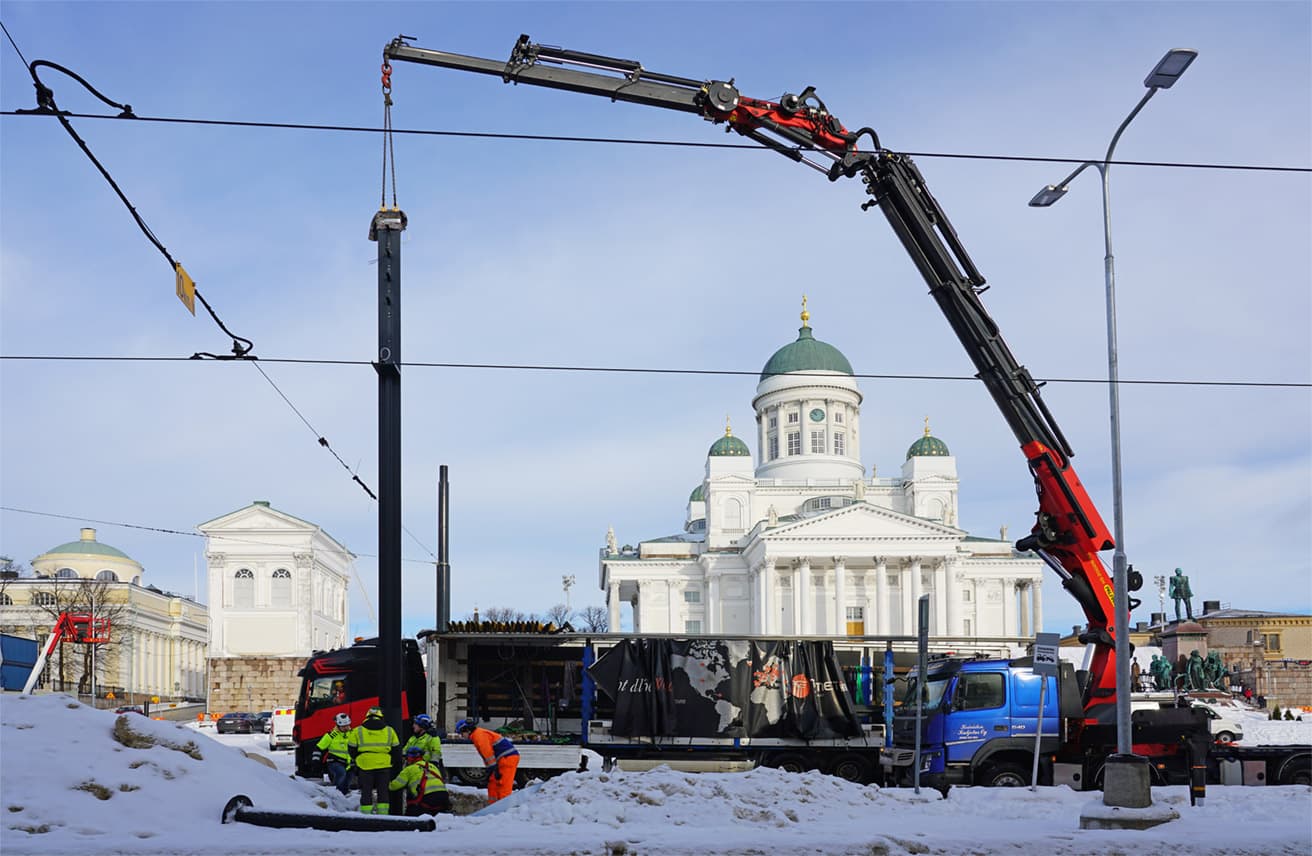 Additional delivery services
Our hoisting service will be necessary when there is no unloading equipment available at the unloading site.
Our distribution service will deliver products, such as poles, to roadside foundations. Our hoisting service will usually be required in conjunction with our distribution service.
Our unloading, distribution, assembly and installation services can handle these functions if the customer does not have the necessary equipment.
As their name suggests, precisely timed deliveries will be made at a specified time. This is typically required when a road or street must be closed or electricity needs to be cut off in a certain area. Precisely timed deliveries are often used in city centres, at airports and in military areas.
Delivery schedules
By default, product deliveries are agreed on within a week's accuracy. The transport company will contact the customer before delivery to agree on the details.
Dimensions and space requirements for delivery vehicles
Our poles are mainly delivered on KS-Rahti's semitrailers or full trailers. A semitrailer is usually about 13.5 metres long. A full trailer combination consists of a 7.5-metre auxiliary trailer connected to a semitrailer.
From these dimensions, you can already conclude that items longer than 13.5 metres will require special arrangements. This is why we aim to use joints when manufacturing items that exceed 13.5 metres in length.
Deliveries with a maximum length of 15 metres can be arranged at a reasonable additional cost. The delivery of longer pieces will involve a special transport that requires a lead car and other special arrangements.
Delivery terms
Finland
Collection. The customer collects the item from the factory yard (EXW) (the most common)
Delivered to the customer, unloaded (TOP)
Delivered to the customer, distributed (CPT) (priced on a case-by-case basis)
Delivered to the customer, unloaded and distributed (TOP) (priced on a case-by-case basis)
Delivered to the customer, unloaded with assistance for assembly (TOP) (priced on a case-by-case basis)
Delivered to the customer, all in (TOP) (priced on a case-by-case basis)
Exports
Collection. – Delivered to the customer with export costs (FCA) (Tehomet pays the export clearance)
Delivered to the customer by road (CPT)
Shipping container deliveries (terms agreed on a case-by-case basis)
Shipping container deliveries by rail (terms agreed on a case-by-case basis)
Air freight (terms agreed on a case-by-case basis)
Additional services are also available for exports.
Delivery price
The price for delivery will largely be determined by the weight of the product and the length of the journey. Additional services, such as unloading, distribution and special packaging, will also affect the price. The transport of products exceeding 13.5 metres in length will require special arrangements that will increase the delivery price.
Ask more about the transportation service provided by Tehomet from these gentlemen. Jani is responsible for transport in Finland and Tõnu is responsible for Tehomet Baltic's services in Kiiu.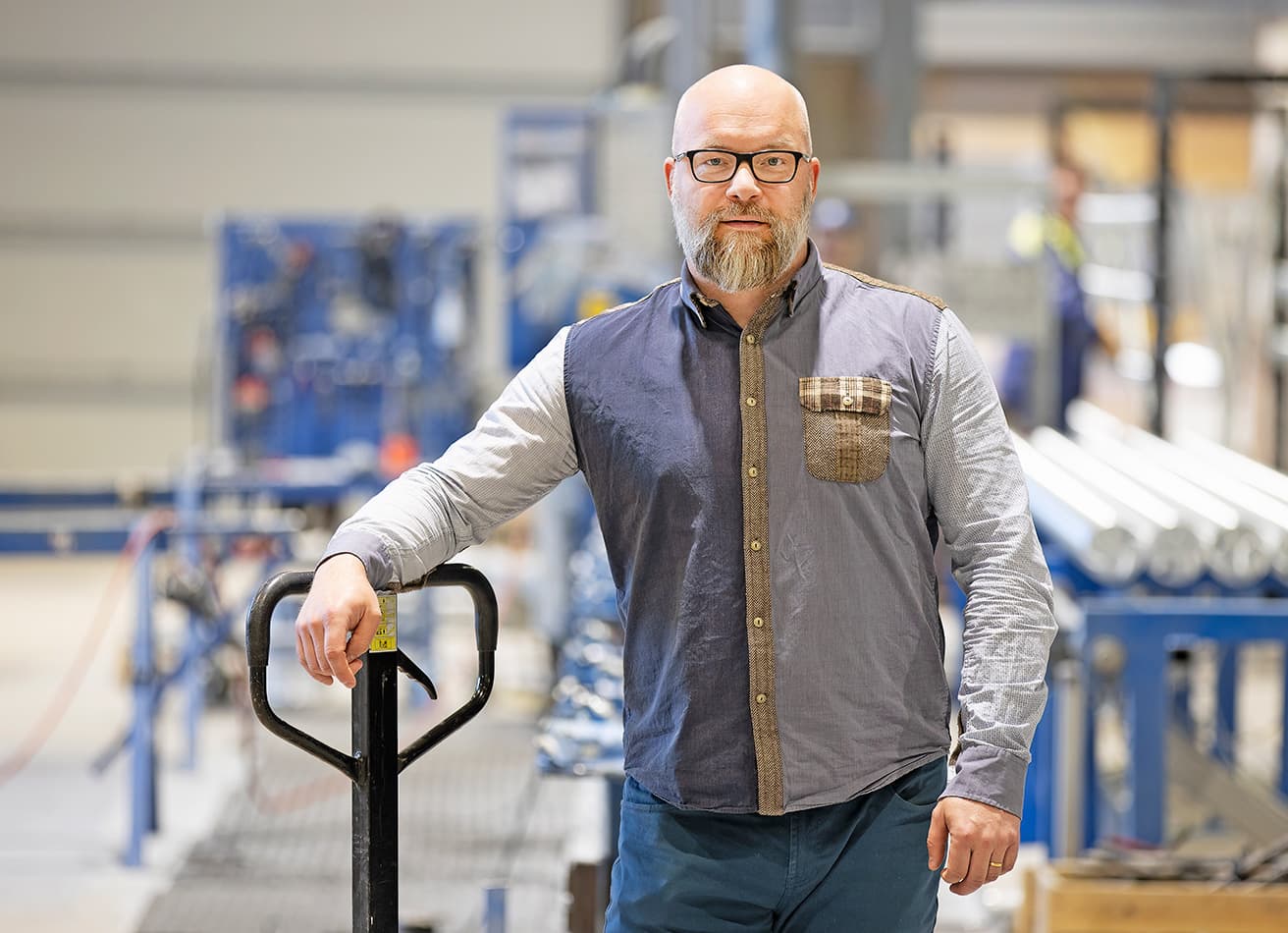 Jani Pylvänäinen
Production Manager
Kangasniemi
+358 40 511 2627
jani.pylvanainen@tehomet.com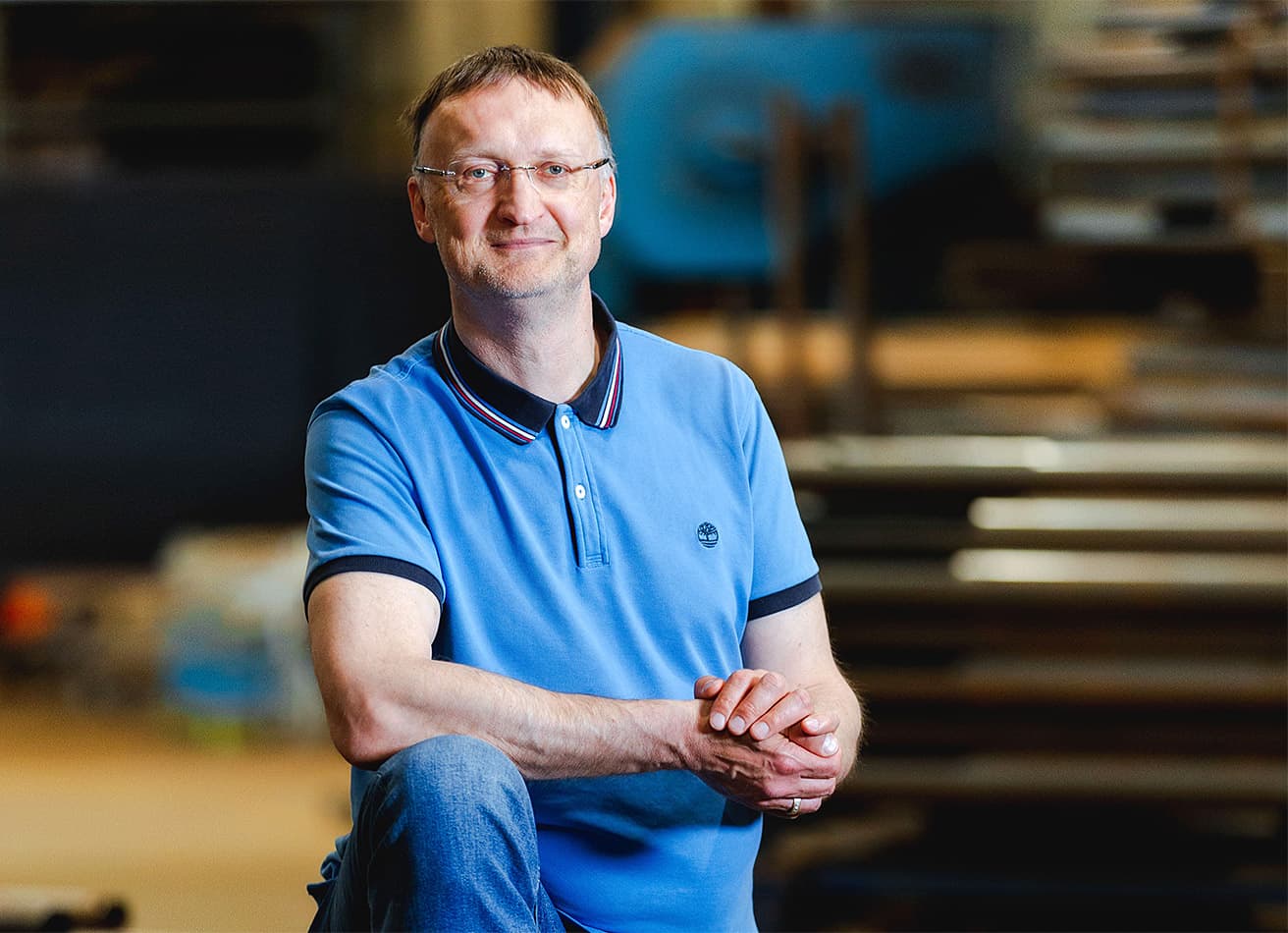 Tõnu Koldits
Plant Manager
Kiiu, Estonia
+372 53 932 835
tonu.koldits@tehomet.com